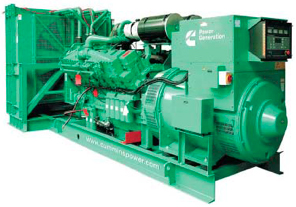 Sample Rental Hire Project Design Parameters
Prime Design Capacity -- 1 to 20 MVA @ 0.8pf nominal lagging
Project Duration -- 1 Month to 8 Years
Application -- Base Load or Fixed Power
Grid parameters -- All voltages availabel rated for either 50 or 60Hz.
Generator De-rate -- None
Power plant package description
USP&E will provide a power station package capable of providing an output of 1 - 20 MVA at any voltage required, 50/60 Hz, 0.8 PF lagging. In case of prime synchronization with the grid the power station can provide 1 - 20 MVA (COP Power). No redundancy is for seen in case of breakdown or maintenance on a generator.
The power station comprises:
Up to 25 generators available on a first come-first serve basis
Ratings of 1050 kW – 1250 kVA (Standby) – 864 kW (Prime)
1 transformer included in containerized package and rated 1 - 10 MVA – 0,4 kV | 3.3/6.6/11 kV + grounding resistance. Also available in 60Hz voltages.
2 Fuel tanks 16.000 Litre + hoses (OPTIONAL)
1 Control Room 10" with 4 remote displays (1 panels)
1 Spare part container 10"
56 lengths of 15 meter cable 240mm2
Earth cable 120mm2
3 lengths 100 meter HV cable
The entire power plant cansupport and run synchronized with the national grid. The power plant will be able to run 24/7 if a redundancy option is taken otherwise the plant will need to be taken off line for short periods while routine maintenance is performed. The generators can run at 400/480 volt – 50/60Hz but the voltage can also be stepped up to 3.3 /6.6/11kV or 41.6/12.47/13.8kV using our included transformers.
The 2007 Diesel Rental Generator:
The USP&E generator is manufactured with a Cummins KTA50G3 engine and a Stamford PI734 main alternator. The components are assembled (2007) in a specially designed sound attenuated enclosure within a standard 20' ISO sea container. The container is fully sealed to prevent spillage and contains a day tank of 900 litres capacity.
A 3-way valve is installed on the fuel system which makes switching between external and internal tank very easy.
All USP&E generators are equipped with a Deif AGC3 controller. This Automatic Gen-set Controller is a microprocessor based control unit containing all necessary functions for protection and control of a gen-set. It contains all necessary 3-phase measuring circuits and all values and alarms are presented on the LCD display. The AGC3 is a compact all-in-one unit designed for the following applications:
Automatic mains failure
Island operation
Fixed power/base load
Peak shaving
Our generators can handle also following applications:
Multiple gen-sets, load sharing
Power management (island operation)
Power management (parallel with mains)
The control panel contains the digital meters of the AGC3 and also electrical and mechanical analogue meters, which makes it possible for untrained operators to work safely with the machines. An Additional Operator Panel (AOP) is installed on the starting panel to make it easier for the operator to read out the most frequently occurring alarms.
Each generator set is provided with following protections and shutdown functions.
Low oil pressure - Fan protection tripped
High water temperature - Over / under voltage
Low Water Pressure - Over / under frequency
Over speed - Reverse power / Excitation loss
CB tripped - Busbar door open
And more
The generator is secured with a 4 pole ABB motorized circuit breaker of 2500 Amp reducible until 1000Amp. Connection of the cables is made by a heavy copper busbar with pre drilled holes of diameter 14mm. The terminals and cables are covered with a plastic protection after opening the door for added safety.
Remote control panel:
USP&E will supply one remote control panel, each having a remote display for each unit rented. On the display you can read out all the desired parameters, start and stop the machines, alter the settings, close and open the circuit breaker. If no space is available with the customer, USP&E can supply a 10' ISO container to use as a control room. The connection of the remote display is done with one single duo core cable of 1.5 mm2 /machine (CAN high & CAN low) + one duo core cable of 1.5 mm2 / panel for the 24 Vdc supply.
USP&E generators have an easily accessible auxiliary terminal box below the starting panel for the connection of the remote displays.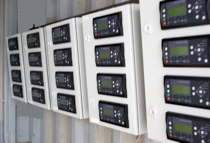 Optional External Fuel Tanks:
USP&E can supply two 16.000 litre tanks built in a 20" sea container. The container is fully bunded and contains the single skinned fuel tank. The tank is certified with European Norm EN12285.
On one tank container we connect 2 generators (feed and return) which give you a run time of approx. 40 hrs. The feeder fuel hoses can easily be bled by means of the installed K1 hand pump. The feeder lines have a non return valve and separate ball valve installed. The tanks can be pressure filled thus reducing fill time. The connection is located at the front of the tank and very easily accessible. An electronic overfill protection is also installed. At the end the project the remaining fuel in the fuel tank can be drained (sucked out) via the 1 1/2 " pipe with ball valve on top of the tank.
The Transformers:
USP&E will supply one 1 - 10al MVA transformer built in a 20" ISO container. The container also can contains two step up transformers from 0.4kV up to 3.3 kV or other kV. The container has forced ventilation and can operate in an environmental temperature of 50°C without de-rating. Each transformer has his own HV-switchgear type ABB Type Safe-plus. Both transformers are connected to the same busbar. On the LV-side one circuit breaker per 1 MW machine is installed. So you can add or remove generators from the transformer without switching off the whole installation.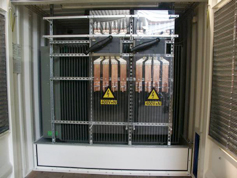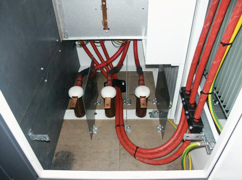 The Power Cables:
The LV power cables between the generators and the transformers are 240mm2 per machine, 3 x 240mm2 per phase and 1 x 240mm2 for the neutral. The connection is with cable lugs and bolts of 12mm.
Installation Drawings:
- TBA after our site visit -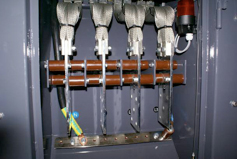 Equipment Specifications:

(click to view pdf)
Oil Specifications:
If the customer does the maintenance on the USP&E generators, he is obligated to use Castrol Tection 15W40 or equivalent API. Must be 15W40 with API CL4. If the customer is not able to get Castrol Tection 15W40, please contact USP&E to discuss the options.
Installation and De-Installation:
- TBA after our site visit -
Maintenance and Intervals
In normal conditions, an A service must be performed every 400 running hours. In case of new machines, the first maintenance has to be done at 250 running hours.
An A service includes:
Change of lube oil
Change of lube oil filters (full flow and by pass)
Change of fuel filters
Change of water separator filters (Racor)
Check/change of air filters
Change of door filters
Change of water filters (every 1000 hrs)
See the operator's manual enclosed with the generator for more details!
At every "A" service an oil sample must be taken and sent to USP&E for testand analysis. A USP&E checklist must be completed and to be returned to USP&E head office in Dallas, Texas. In normal conditions it will take about 4hrs to perform an "A" service. After 3500 running hours a "B" service needs to be performed by an authorized engineer.
A "B" service includes:
An A service
Adjustment of the clearance of the valves
Adjustment of the clearance of the fuel pump injectors
See the operator's manual enclosed with the generator for more details! Under normal conditions it will take about 8hrs to perform an "A" & "B" service.