New 63kW Hipower Systems Diesel Generator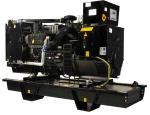 Wattage: 63 kW
Make/Model: Hipower Systems HJW 65 T6
Year of Mfr: 2012
Hours: New!
Fuel Type: Diesel
Frequency: 60 Hz
EPA Standard: Tier 3
Tank Size: 38.30gal
Enclosure: Open Skid
Additional Info:
■227/480V
■John Deere	 4045HF280 Engine
■Stamford UCI 274 D Alternator
■3 Phase
■1800 RPM
■Jacket water heater/block heater
POWER PANEL
■Main Line Circuit Breaker for overload 
protection (CSA, UL and UL-C listed). 
■Main bus / Hardwire connection panel with 
safety protection. (Open thermal magnetic 
protection and alarm) 
■Fuel cut-off solenoid and safety switches. 
ELECTRIC EQUIPMENT
■Battery charging alternator. 
■Gel type, heavy-duty Starting battery(s) 
installed and connected to the engine include 
cables and rack. 
■Ground connection prepared for ground spike 
(not supplied). 
CHASSIS
■Skid with integral 38.3 gallon fuel tank. (non UL) 
■Fully welded steel skid with forklift pockets 
and 110% spill containment. 
■Chassis ready for mobile kit installation or 
Extended capacity fuel tank. 
■Easy access for chassis cleaning and fast 
draining of fuel tank. 
■Vibration isolators between chassis and 
generator. 
EXHAUST
■Steel residential silencer of -35dBA 
attenuation, with rain cap. (Optional for Open 
Skid).
■Sound-attenuated Enclosure with 142.6 gallon fuel tank: add $4,364
■Also available: 120/208V, 120/240V single phase
Attachments:
Power Calculators
Similar Items
---

$35,841 NEW


65 kW Diesel Generator 80.00gal Fuel Tank, Sound Attenuated Enclosure, 60 Hz, ■ Brushless...
Equipment is sold as is. EXW warehouse. Subject to prior sale. Shipping quotes available upon request.