New 2000kW Caterpillar Natural Gas Generator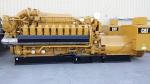 Wattage: 2,000 kW
Make/Model: Caterpillar G3520C
Year of Mfr: 2007
Hours: New!
Fuel Type: Natural Gas
Frequency: 50 Hz
Additional Info:
2MW Caterpillar G3520C Industrial Generator sets
Ratings: 2,000kW continuous / 2500kVA, 0.8 PF
Fuel Type:  Natural Gas
YoM: 2007
Freq:  50Hz
Voltage:  400V
Speed:  1500RPM
Hours:  0 Since New
*Comes with SR4B gen-end, double bearing, 828 frame, jacket water heater. 
EMCP 2 plus control panel

Two (2) units available
Power Calculators
Equipment is sold as is. EXW warehouse. Subject to prior sale. Shipping quotes available upon request.