New 2000kW Cummins / Onan Natural Gas Generator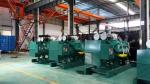 Price (USD):
$1,029,000.00
Wattage: 2,000 kW
Make/Model: Cummins / Onan QSV91G
Year of Mfr: 2017
Hours: New!
Fuel Type: Natural Gas
Frequency: 60 Hz
EPA Standard: Tier 4
Enclosure: Open Skid
Additional Info:
New Natural Gas fired Cummins Machines - Surplus !
2000kW with Warranty (x12). They come with 3.3 power control panels that are capable of paralleling the generators but the gear would need to be bought separately.  12 AVAILABLE
Attachments:
Request Quote
Power Calculators
Equipment is sold as is. EXW warehouse. Subject to prior sale. Shipping quotes available upon request.