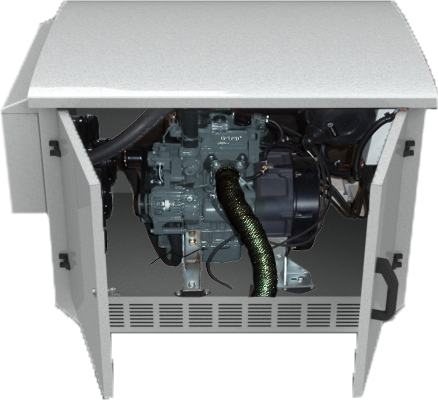 GenLeap™ power generation systems are fully integrated DC power solutions, providing versatility, reliability, and optimum performance for backup/primary power for wireless networks, CATV/broadband applications, and remote terminal cabinets. It is not recommended to use AC generators and transfer switches for safety reasons in Grid Tied Solar power systems. The GenLeap™ DC generator allows a clean extended back up in the absence of solar power and utilities for your critical applications.
Powered by Diesel fuel, Natural or LP gas,. The integrated microprocessor based control solution combines engine and alternator controls for optimum DC Generator performance and high reliability. Each unit is a low RPM variable speed engine that is microprocessor controlled to further reduce noise for applications in commercial or residential areas.
KEY BENEFITS
High Availability and Reliability - AC generators frequently induce high voltage transient causing stress on AC-DC rectifiers and transient protection devices. Since GenLeap™ does not backup PDUs or rectifiers the system operation is not affected with these failures. GenLeap™ (DC Generators) significantly increases the reliability of remote telecom sites while reducing DC plant & battery reserve size, saving valuable cabinet space, and reducing maintenance costs
Simplified Power Architecture - GenLeap™ built in battery charger eliminates the need for a separate battery charger in power systems. GenLeap™ eliminates the need for extra batteries and transfer switch between AC utility and generator. Multiple points of failures after AC generator and slow cold start requires extra batteries in the system.
High Efficiency - GenLeap™ offers a significant size reduction and fuel consumption advantage no conversion loses. The losses due to PCU, rectifiers and PDUs are no longer considered in sizing GenLeap™. The AC generators require significant over sizing in engines and alternators to compensate for current surges during startup and matching peak capacity demand.
Lower Opex - High fuel efficiency with cleaner and lower cost fuels like LPG allows drastic reduction of fuel cost. The lower RPM range variable speed control, permanent rare earth magnet & brushless 24-32 pole DC alternator, and low maintenance or refueling frequency allows significant reduction of operating expense.
Pay as you grow - GenLeap™ comes in 3.5kW - 20kW sizes and 24VDC & 48VDC outputs. Unlike AC generators, GenLeap™ regulated output allows load sharing and multiple GenLeap™ units can be paralleled for larger DC power generation.
KEY FEATURES
Variable Speed- Smaller lighter variable speed engine for higher fuel efficiency & lower noise/vibration.
Master control (eConLeap™) for hybrid system with batteries and solar
Low Noise- sound attenuated, lockable aluminum enclosures
Control - Microprocessor controller Installation Ease- Ease of installation due to smaller size and weight
Remote & Local Monitoring with 18 LEDs and 18 customer programmable form C relays
Remote fuel capacity management
Soft start and 30 sec delay start prevents nuisance starts
Current limit control to prevent the alternator from overheating and the engine from stalling during shorts or overloads
Battery charging & temperature thermal compensation
EMI: Meets FCC Part 15, for Class A equipment
Designed to meet standards Telecordia GR 487, GR 1089, GR 063 (NEBS), UL 2200, NFPA 37, 54, 58, 110
Utility Grid Independent- not requiring isolation from utility, hence, easier for permits
SPECIFICATIONS
Capacity 3.5kW, 5.5kW, 10kW & 20KW
DC Output Voltage: 26VDC, 52 VDC
DC System Voltage: 24VDC, 48 VDC
DC Ripple: <100mV peak to peak, batteries connected
Operating Speed: Variable 1600-2900 RPM
Emissions Certification: CARB Tier 2, Intermediate Tier 4
Voltage Regulation: < 1% no load to full load
Alternator design: No bearings and Brushless
Rare earth, permanent magnet generator (PMG)
NEMA 3R, IEC529 IP54 Cabinet Protection
Temp Range -40 °C - +60 °C
APPLICATIONS
On or Off Grid Wind/Solar Power Systems
SCADA and Industrial RTUs
CATV/Broadband Networks
Small Switching Centers
Wireless Base Stations (BTS) and Backhaul