New 512kW Hipower Systems Diesel Generator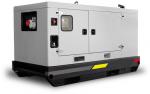 Wattage: 512 kW
Make/Model: Hipower Systems HPW 515 T6
Year of Mfr: 2012
Hours: New!
Fuel Type: Diesel
Frequency: 60 Hz
EPA Standard: Tier 2
Tank Size: 195.40gal
Additional Info:
■227/480V
■Perkins 2506D-E15TAG3 Engine
■Stamford HCI 544 C Alternator
■3 Phase
■1800 RPM
■Skid with integral day fuel tank (non_UL)
■Digital auto-start control panel
■Dry-type replaceable element air-cleaner 
■Industrial muffler 
■Jacket water heater/block heater
■Battery, battery rack, and cables 
■Fuel and lubrication oil replaceable element filters 
■Stamford AVR brushless 12-wire reconnectable alternator 
■Oil drain hand pump 
■Vibration Isolators between base and set assembly 
■Main Line Circuit Breaker for overload protection 
■Belt driven charging alternator 
■Guards for shielding all rotating parts 
■Fuel cut-off solenoid and protection switches 
■Radiator with pusher fan 
■Operation and installation manuals
OPTIONS:
■Sound-attenuated Enclosure with 195 gallon fuel tank: add $10,400
■Also available: 120/208V
Attachments:
Power Calculators
Equipment is sold as is. EXW warehouse. Subject to prior sale. Shipping quotes available upon request.